About us
Creation. Innovation. Wonder!
Whether it's brand-level messaging, a digital strategy, a sales promotion or a new marketing initiative, the story your business is telling needs to connect with your customers, while remaining compelling and consistent. We are a highly professional team of designers, developers and visionaries, specializing in advanced digital marketing solution in order to impress and connect, in an innovative way, with your customers. Our purpose is to create innovative applications. Do you have an idea that is difficult or impossible to implement? Ask us first!
Experiences
We create applications to be used within an interactive environment. Our software applications are being design and created by us. Everything can be modified and configured to match your needs, but we encourage you to present us your idea, so we may create something new together. Don't forget to check our portfolio for our clients and projects.
"It's still magic even if you know how it's done."
-Terry Pratchett
Our skills
Touch
Motion
Visual/3D Animation
Flash/Video
Software

You have an "iDiA"?
Contact us so we can design and implement your ideas together
Made to touch, designed to feel.
Touch
Touch Technologies for indoors & outdoors
Keep in contact. Keep in touch.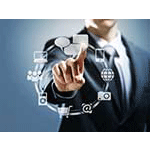 Interactive Window
Operating 24/7, interactive windows displays captivating multimedia content that invites potential customers to take a closer look.
iTable
Play games, demonstrate products, view videos and photos, have a presentation and much more. The iTable can react with any object.
infoPoint
Multi touch info kiosks for educational, recreational and entertainment purposes. Can be placed anywhere, according tou your needs.
Transparent LCD
Combined multi-touch technology with transparent LCD screens for displaying virtual information and graphics along with physixal objects.
Our Pricing
Check it. We're Affordable.
Rental
We have dedicate a lot of effort to re-adjust our prices to fit the status of today's market. Prices vary according to the time period each system is rented. The longer the time, the cheaper it gets! Call us now to get your pricelist.
Custom Made
Customizing or creating a software anew to fit your needs is not an easy proccess. It takes time and devotion to make fit your needs and vision. But in the world of innovative technology, everything is possible and we can guarantee you that the final result will be EXACTLY what you had in mind!
Motion
Nothing is static
Create an envinroment where everything is in motion. Everything flows. Everything is vibrating.
Interactive Surface
Operating 24/7, interactive surface reveals hidden animations & effects when someone passes by or through it.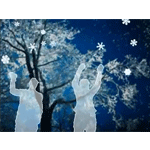 Falling Objects
Motion capturing with with 3D motion sensors. Project your outline in any background.
Virtual Football
Try to score a goal in a virtual environment. 3D sensor captures your kick and puts your footbal skills to the test!
Basket
The use of 3D sensor in free throws. Play to win ensure win for your team, or just test your skills.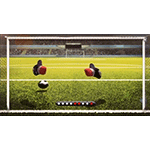 Virtual Goalkeeper
Intercept the ball and prevent your opponent from scoring, in a virtual environment.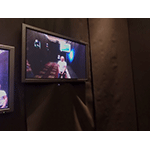 Thought Bubbles
Cartoon-like bubbles appear over the heads of passerbys.
Virtual Hurdling
Compete with others in a virtual track and field.
Visual
Eye candy
Visual Eyes Visualize Visual Lies.
Fog Screen®
No more fixed screens. The FogScreen projection screen, produces a thin curtain of "dry" fog that serves as a translucent projection screen.
Building Projection
Through the use of video mapping and 3D animation technologies, we can makew any building surface come to life.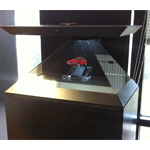 Holograms/iCube
Stereoscopic display of video and effects, that creates the illusion of stereoscopic hologrammatic animation.
Virtual Host
A life-sized projection of a person, that provides information. The projection is shaped just like the image projected and looks as a real person.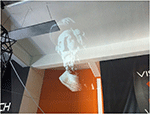 Holographic Net
With the Holographic Net we can create the illusion of floating images or videos with the use of an invisible projection surface.
Software
Directed Programming
Games and not only.
Snowflake
A fully customizable suite for multi-touch surfaces. Contains avaerything, from galleries to games, from Internet browser to P.O.I.
iBot
Interactive, all-in-one touch and digital signage application. For multiple deployments or single units, management through CMS.
Virtual Receptionist
The Virtual Receptionist combines the technologies of Virtual Host and iBot, so each information can be spoken directly to the person asking.
Augmented Reality
Applications that put you inside a virtual space and you the capability to interact with it. Many ways of implementation.
Quiz Game
A quiz game that can be turned into a live experience, that can be shared by up to 400 players simultaneously.
Face Recognition
The face recognition software, recognizes a face's pattern and apllies effects on it.
Virtual Aquarium
"Virtual Aquarium" turns doodles into lifelike swimming fish!
Our works
Things we are proud off.
All the pictures and videos below are works made by our team. A HUGE variety of projects and ideas, each one made individually to fit our clients' needs.
About iDiA
Our purpose is to create innovative applications and to find new ways to impress.
Do you have any idea that you may think that is difficult or impossible to implement? Ask us first!
Photostream@idiacorp